Custom packaging boxes are gaining noticeable fame in the last few years, and the number of firms considering this packaging option for their products is increasing in the form of heaps and bounds. Why? Let us find out a few things a business-owner must know about Custom Packaging Boxes; before considering them!
Benefits of Custom Packaging Boxes:
One of the most common benefits of custom packaging boxes is that these boxes are not only convenient for the firms which use them, but also for the customers. These boxes are easy-to-carry, and this portability allows clients and customers to carry these boxes along with them, wherever they might go. Moreover, this also allows people who are avid travelers or adventure fanatics to keep their food safe all the time; so they can eat a healthy snack even on-the-go.
Different Shapes & Sizes:
These boxes are available in a number of different shapes and sizes, which allows firms to manage their products according to their types. For example, for food products, these boxes can be available in the form of handbags, or for gifts, these boxes are also available with a window at the front. This helps firms in presenting their products in an even more engaging way.
Another compelling benefit of custom printed boxes is that they are exceptionally spacious when it comes to adjusting the products. These boxes are specifically manufactured by a Custom Packaging Boxes Company in accordance with the types of products which are packed inside these boxes. For example, bakery boxes are uniquely produced, in order to make sure that the integrity of the bakery items is not compromised, especially the frosting.
This is one of those advantages, which are considered by each and every firm which is out there. The attractiveness of the custom packaging boxes allows them to increase the local and international presence of a brand, allowing a firm to maintain its clientele and expand it as well. This not only keeps the existing customers interested in the product line but also attracts potential customers to purchase your products.
A firm is always looking to increase its fame in the marketplace, and in a competitive and fierce marketplace such as the one we are witnessing in the 21st Century, promotion of your brand is not an easy task. In such cases, the product's packaging plays an important role in advertising the name of the brand. This is where custom printed boxes stand out. They can promote your brand in an amazing way, allowing you to expand your reach internationally as well.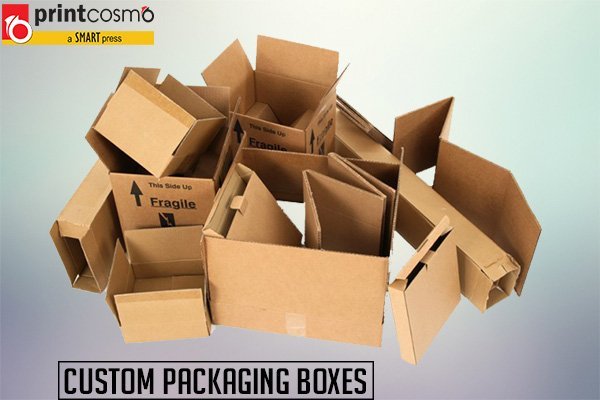 Another amazing benefit of custom packaging boxes is that these boxes have a glossy surface, which allows firms to easily print anything they want over the boxes. Packaging boxes which are personalized and customized sell better and can engage more potential customers to become a part of your permanent clientele. In such cases, firms can print anything they want over custom printed boxes, and increase their customer-interaction concurrently.
The durability of custom printed boxes has never been challenged by any other packaging option in the marketplace. These boxes are manufactured from the best materials in the market and are processed in such a way that they have a sturdy structure and protect any sort of product being packed inside them. On top of that, there are tons of Custom Boxes Wholesale options available in the marketplace, allowing firms to save a lot on every bulk purchase.
Last but certainly not the least, allowing firms to internationally ship their products, and increase their presence globally as well as one of the most engaging perks of custom packaging boxes. These boxes can easily withstand the wear and tear of long journeys, which allows keeping the products safe and secure, even after being shipped to a different country.
The Bottom Line:
Hence, if you're looking for an amazing and effective packaging option for a new product line you are about to launch, investing your money in Custom Printed Boxes is worth a shot!