Man! These cupcakes look more delicious than they actually are in taste.
Yeah, I know! I always fell under the spell of these cupcake boxes.
Hahaha! Ok, let's fall again under their spell and taste some cupcakes.
Let's go.
Hello to all the bakers and confectioners! Good to see you all. You are the one who brings joy to the people by sharing the taste in their hands and make their soul glow. I am one of you. At first, I was very afraid to show my baking talents to the world than I took an initiative to make my bakery items recognized among my friends and family. I have been cooking and baking stuff for my family, friends and various clients, my signature dish is cakes and cupcakes and are very admired by everyone and I found a special thing to make it out of the world by using cupcake packaging boxes as a custom or for giving away as tradition. From innovation, in cakes baking, I have made innovation in custom packaging boxes to present my baked items too. If you are wondering how I got this idea of designing my cupcake boxes and what changes has it brought to my kitchenette, then stay with me throughout this blog. I will share with you all the experiences and information about my supporters who actually helped me in achieving the best market place.
Focusing on Brand Image:
The major concern and difficulties which are to be faced in making the decision are to look for the logo and name. Something that is simple and meaningful stick to the brain once it goes through the eyes of anyone of any age. You can either choose your own name or its initials for the logo or branding that would definitely intrigue your customer. This is your first shot to attract the customer towards your product. As I want cupcake boxes that will not only help me in packing my delicious cupcakes in them but also help in the advertisement of my product. So after detail research on custom packaging boxes online from different sites that provide new ideas to create a brand name, I came up with the name of my company. Though, I have started baking at small scale because I was definitely not capable of doing such huge investment on it right now and its Cupcake Packaging Boxes, hence, I took help from the internet and made logos to be printed on me customize cupcake boxes.
Selection of color combinations:
The next major aspect that is to be focused while printing custom packaging boxes for your cupcakes cakes and bakery items is to use a proper color combination that compliments your products. It should be in contrast like the background must be of light colors and brand name printing should be in dark or vice versa. So that the brand name got stuck into the minds of the people who go through it once. The color combination of the custom cupcake boxes should not be that bright that it would itch the eyes of the customers rather than relaxing and attractive colors must be kept in sight. I have customized the color schemes and made my own collection according to the traditions and events. For instance, if you're baking a customized cake for the birthday party, you can customize the custom cake boxes according to the birthday party pattern which involves balloons and party poppers.
Benefits to be obtained from outer look:
If any of you still confused about why you need to focus and invest more and more on the outer appearance of these cupcake boxes than here is the answer:
With the logo printed on customizing cupcake boxes, you get help in marketing your product and get recognition for your products and people will get to know you by your name or your brand name. There are few requirements of your logo as well
Name or logo should be related to the product you're selling.
It should be small enough like one or two words so it would be easy to remember.
Visible on all sides of the box.
Mention your complete and correct contact details so you can be easily reachable at any time.
Here are some of the innovative ideas I introduced in my portfolio according to the common occasion for cupcakes and Custom Cake Boxes that you can also think of.
BIRTHDAY Cakes & Cupcakes Boxes:
As mentioned above, with the balloons and party poppers and other birthday celebrations, I print the cupcakes and cakes on the custom packaging boxes with the name of the person whose birthday is being celebrated in which you have to put the cake and present it to your customer. This will specify the box as custom cake boxes. You can leave the space between blank so that you can write the name of the birthday person.
CUSTOMIZED BOXES FOR BRIDAL/GROOM SHOWER:
For casual functions like bridal or groom shower, baby shower or bachelor's party, you can make custom cupcake boxes and then pack them in multicolor printed cupcake boxes. Following the trend, I have started the scheme of 6-8 cupcakes all themed up for the event. Some of them have written on it while others have pictures baked on them. When you put such effort on the manufacturing of cupcakes, your product demands little more effort in the form of custom packaging boxes. Furthermore, these cupcake packaging boxes are also helpful for the protection of the cupcakes and cakes as well. Thence, it is necessary to provide your customer with the option to return to you again with fascinating designs on printed cupcake boxes.
CAKE BOXES FOR WEDDINGS CAKES:
When it comes to weddings, cakes are mostly prepared in towers to shape like in step and stories. So, to keep the cakes protected you definitely need custom cake boxes that will cover the sides of your cake and protect them from getting ruined. These cakes can be packed in separate boxes or one single large box according to the shape of the cake. So, here comes the difficult decision of selecting a perfect size. You have to select the measurements of custom packaging boxes and make sure these measurements are in accordance to your sizes of cakes otherwise it will ruin it at the packing stage.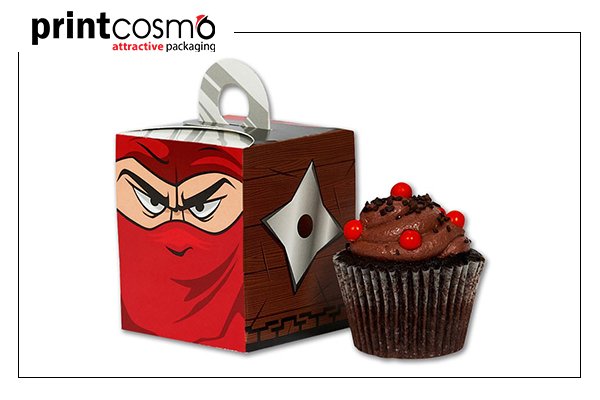 All types of sizes:
Different sizes and shapes give numerous impacts on your sales. So, with the different shape of cakes and cupcakes, you can change the shape of their custom packaging boxes as well. Well, the plus point is for both the buyer and the supplier. Investors invest in variety while the buyers believe in diversity so they make sure they have options to select from a vast range of printed cupcake boxes. It becomes economical as well. The buyer looks for something according to their budget and then gives options after customization.
Introduce Window Uniqueness:
Well, another peculiarity that I have learned whiles my research and during polishing my skills is the introduction of window panels. If you want to enhance the appealing factor of your Custom Packaging Boxes, I would recommend you to induce a window either on the top or on the front of custom cupcake boxes. This really helps in attracting customers. Moreover, with the window boxes, customers get the idea of the product packed inside. It helps the customer get the idea how the product looks like in actual or if the product is fresh or not and if the icing or the topping of the mini cupcakes are done elegantly without opening it. Your customer would definitely get attracted to it.
Strength:
After making your cupcake boxes all alluring from outside, it is time to look if your customized cupcake boxes are eligible of handling the pressure and weight or not. This, you get to know by looking if the tabs are interlocked into one another properly or not. Or how to carry the box once the product is packed in it? Another thing that matters is the thickness of the box. If it's thicker than it can handle the cake easily.
My partner in success
Without any more delay, let me put in the picture you something about my biggest support in the world of business. If you need the above-mentioned facilities, then without any further delay contact Printcosmo. This company really helps its customers in upholding their packaging standards to the level, which is very difficult to achieve. The variety in the customized cupcake boxes provided by them, I am sure of it that no one has such quality and standards. If you do not believe my words, then make the comparison and decide it yourself. I have properly introduced the company so, for any or all of the above mention facilities, you can contact them directly. This company really helped me in maintaining my packaging system in the form of cupcake packaging boxes.
In the end, I would say, for better information about printed cupcake boxes contacts this company. Their representatives are available to answers your queries at all times. You can contact them at any time using the information given on their official website.