Mom look!  what yummy donuts they are?
Yeah, but just look at the donut boxes; they are so tacky and unreliable.
Have you ever heard this about your own product? If no, then let me share my experience. I heard this from one of my customers.  I am a passionate baker and donuts are my specialty. One day unloading my stuff the above-mentioned conversation of mother and daughter and then I realized the importance of donut packaging boxes.  As I was the person who believes in the quality of the product but let me tell you together with the product; you really need premium quality custom donut boxes. The combination of both these brings the real charm and attraction for the customers. This change also brings a real and visible boost in my bossiness. However, I have made a lot of changes in my packaging system. If you also want to know about all those changes then read the full blog, you will definitely find a lot more beneficial information.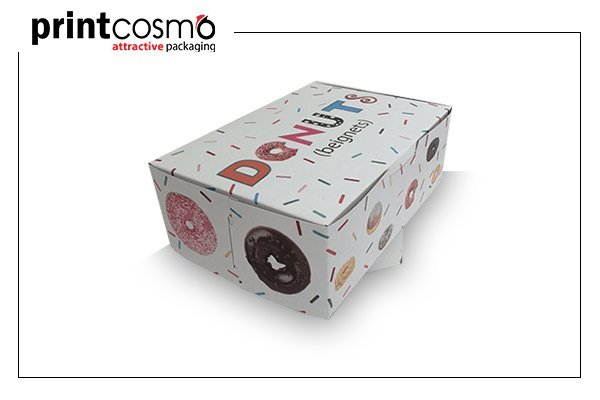 Boxes with logo, The First Change
There was one more thing that was bothersome for me, which was that even my regular customers who were aware of my product and quality were unable to refer my shop because I have no proper brand recognition. The solution to this problem is to have proper printing of either of the logo or any name to make it a recommendable brand. If you are having any confusion right now so I suggest you use your name or initials of your name as brand logo over these printed donut boxes.  Hey, don't get panicked this procedure of printing over donut boxes is not so expensive if you do the right research and choose right printing partners. Further, these custom boxes with logo will turn out to be your automatic advertisement medium wherever they are being taken in parties or any other occasions.
You should have these points in your mind while getting your donut packaging boxes printed.
The logo or name should be related to the product you are selling.
It should be short enough to get easily printed overall sizes of Custom Donut Boxes.
Shortness like one word will be helpful for the customer to remember.
Most importantly, it should be visible in the background.
As already told, it can be your name or initials as well.
With the logo, print your address or contact details to invite your customers.
Color Selection for Logo
One thing I mentioned above is the visibility of the logo or name on the printed donut boxes. For this, you really need to know some tricks like if you choose dark color background then go for light but the evident light color for the logo. Moreover, you can also go for a light background with the dark color on the forefront for custom boxes with logo.  There is one more option in which you can have both dark color combinations but then I suggest you select the dull dark color for the background and bright dark for the logo or name, which will enhance the visibility of your donut and custom muffin boxes even from the distance. About the customization as per printing you have the graphic, laser or digital printing, choose which suits your budget or satisfy you over these donut boxes wholesale. Moreover, there are CYMK (Cyan Yellow Magenta and Key) and PMS that are in demands by the customers. You can also choose RGB palette if you need but it's very old and new versions are giving much better results.
Theme Customization for Printed Boxes
Hey! Guys this does not end rather beginning.  After selecting the logo, you also need to have a huge variety of printed donut boxes according to the events and occasions. As your customers are always in search of innovation and they will make you look for it too. For instance, events like Christmas, Easter, Birthdays, Anniversaries, Weddings, Bridal or Baby Showers; all these events are related to the sweets and confections like muffins and donuts etc. Thus for all these events you must have innovatively designed custom muffin boxes and donut boxes. Moreover, for kitty parties, your female customers will always look for this particular element in custom donut boxes. Further, there is a contribution of kids in your sales revenue so, don't forget to have an assortment for them. For instance, get donut boxes wholesale customized in the shape of their favorite animated characters. This will definitely bring a huge smile on their face and remember they are the best audience to get into a strong relation and bond.
Importance of Size
As I am constantly telling you about the importance of innovation in packaging together with other elements that need to be focused, there is another important thing should be considered about these donut boxes. This thing is known customized sizes. You people aware that donuts are sell in numbers, let's suppose if someone wants to buy one donut and you pack in a standard size donut box packaging, it will not create a good impression. Moreover, the situation can completely in reverse form as well. For this reason, custom donut boxes are necessary. In the same way, you need custom muffin boxes for the various number of muffin packaging.  Here are some sizes you can check out for your confectioneries to give them proper packaging.
18 × 13×3.5″ donut boxes for 2 dozen donuts,
9×5×4″,
11 ½ " × 8 ½ ×2 ½ with lock and tab
Moreover, there is a different variety of custom muffin boxes such as 4×4×2″ and 8×4 ×2″ etc. for single and double muffin as well as donut packaging respectively. You will see that these Custom Boxes with Logo available in different sizes will do magic in your bakery business.
Induction of Die cut Window & other Feature
After all the additions of the features like premium quality and some mentioned above, there is another one which will make these donut packaging boxes even more attractive and appealing to the customers is the addition of windowpanes. These windows firstly help in attracting the potential customers and also provide them satisfactory look of the product packed inside these muffin and donut boxes. Moreover, if you have plain white or Kraft brown custom donut boxes then the colorful donut will shine through this clear plastic window. These windows can be on either side of the boxes like, on the top or on the front or it could be in wraparound form. But I would recommend you to go for top window panes. In addition to this, with this window cut outs these custom muffin boxes can also play the role of display boxes on your counter shelf. These tiny features help in enhancing the visual perception of the end users. Furthermore, as per the demand of the occasion or the customers you can also get them embellished with organza or any other fabric ribbons as well as the bow tie or rose petals shaped top donut boxes wholesale.
Conclude the Look with Lamination
After doing all such effort with printing, clear windows and further additions like, insertion of dividers in these donut packaging boxes that help to preserve them on their places.  When it comes to preserving all these efforts, there is only one such thing, which is lamination. It is a mandatory process in which a thin layer of plastic is applied. This layer actually protects the custom donut boxes from various physical and atmospheric changes. For example, heat, moisture, dust, dirt etc., and increase their resistance quality against grease and smudges. Further, it also helps in protecting products placed inside these printed donut boxes. Choose an option from the list given below, which suits you best for your donut boxes.
Gloss
Matte
Aqueous
Spot UV
Semi-matte AQ and so on
These glazings give a silky, polished and smooth effect to donuts and Custom Muffin Boxes as well they also improve their finishing look. Furthermore, these laminations are workable in a way to provide them resistance ability against all types of tears and damages.
My preference for Paper Bags
I have told you a lot about what are the requirements of best donut packaging boxes, now it's time to reveal my supporters who are my real strength in this way. I would confidently like to introduce Printcosmo as my packaging partners for donut boxes. I have got excellent results after connecting with this company. This company has experience of so many years in the field of packaging and printing. Therefore, I would advise you to get benefited from their experience. In addition to this, there is the list of significant features that urges you to get in contact with them for custom donut boxes. Those features are:
Free Custom Quote
Free Design Assistance
Free Sampling
No die cut charges
Gold and silver foiling
Insertion of Divider
Free Shipping
There is a lot more, which you would like to know about them for your personal satisfaction as it is just the introduction. To know more about them then get in touch with them on their provided phone numbers or web page which is www. Printcosmo.com.