Chinese takeout boxes are also known as the oyster pail. These are folded and plastic coated or waxed containers made up of paperboard. These were originally designed to hold oysters. Commonly, these boxes are provided with a handle of solid wire that makes their conveyance easy. These boxes have proven themselves to be of great use in the Chinese cuisine restaurants all over the world.
The different types of Chinese takeout boxes are given below,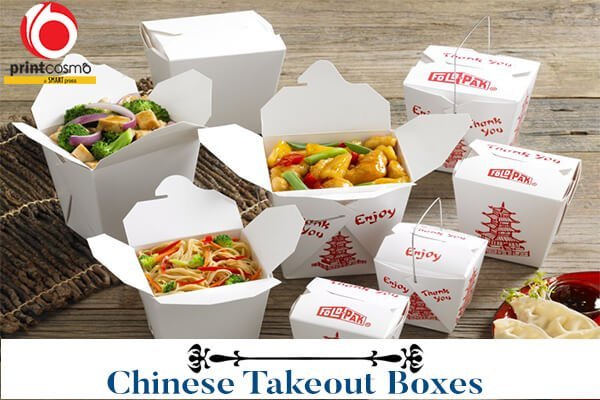 Colored Chinese Takeout Gift boxes with Handle
The striking selection of colored Chinese takeout boxes we have can make an individual's imagination go wild with the ideas of using these boxes. Whether you need boxes to use as gift boxes or candy holders, you will surely find an amazing way to put our captivating Chinese takeout boxes to a good use. These boxes are available in,
A variety of different colors and sizes.
With a wire handle or tuck-in-top.
In a recyclable or biodegradable material.
These are not FDA approved. So, they are only to be used with packaged food that does not come in contact with the food.
Brown Kraft Microwaveable Chinese Takeout Boxes
The natural-looking unbleached brown Kraft Chinese Takeout Boxes are manufactured from reprocessed paper fibers. These fibers are then covered with a thin poly liner that makes them leak and grease resistant. These boxes are,
Made of 100% recyclable unbleached and natural paperboard.
Certified by the Green Restaurant Association.
These are microwaveable if no wire handle is attached.
Approved by the FDA for direct food contact.
Pagoda Microwaveable Chinese Take Out Boxes
These perfect boxes can store all types of foods and sauces without allowing anything to leak. If wireless, these containers can be microwaved and can be reheated. Some of the qualities of these boxes are,
They can store liquid, solid, hot, cold, dry, and wet foods.
They are stackable if you have compact storage in your kitchen.
These are made up of SBS paperboard that gives them clean white look.
The poly coating liner within the boxes retains the freshness of food.

Translucent Chinese Favor Boxes
These boxes can be available in many striking, vibrant colors and two different sizes. These are not intended to be used as Food Packaging Boxes but they serve as ideal wedding/party favors or wrapped candy holders including many other uses. These boxes have following qualities.
Manufactured from polyethylene that enhances their durability and reusability.
Not approved by FDA for direct contact with food.
They are filled with metallic shred or tissue that makes them captivating.
SmartServ Red Dragon Print Paper Food Containers
These boxes retain the classic charm of the Chinese takeout boxes but they provide a more vibrant and bold version. These now come in recyclable and eco-friendly material that can be sealed easily and is comfortable to handle. These are FDA approved, grease and leak resistant. They can be used to store pasta, chicken, sides, or other takeout items. Some qualities are asunder,
Features interior moisture and grease barriers.
The cup-like bottom makes them easy-to-handle.
Latching system helps in keeping the food secure.
At PrintCosmo, a wide variety of Chinese takeout boxes is available including different traditional designs with or without handles. These boxes differ depending on the material from which they are made. The ones that are designed to store cold food have a different material than the ones for hot food. All these types of Chinese takeout boxes can have different styles and designs depending on the requirements of a restaurant. Whatever you need these for, you can explore the wide variety of Chinese takeout containers we have. Some of the qualities of our Chinese takeout boxes are given below,
These boxes can be perfect for hot solid or liquid food.
These boxes can be microwaveable depending on the material used.
Our Chinese takeout boxes are popular among party and wedding planners because they make great favor boxes. This is specifically true for translucent colored takeout boxes.
Our boxes are made up of 100% recyclable paperboard.
Why Choose PrintCosmo?
At PrintCosmo, origami folds are utilized to form a structure that provides a sturdy and fascinating appearance to the Chinese takeout boxes. If you are looking for ways to make your boxes different from the rest, you have come to the right place. We love to provide our customers with unique and enthralling designs. The option of Custom Packaging Boxes is always available. Customization broadens the purpose of a takeout box. As it serves as a food container, it can also act as a billboard or a brochure for an observer. The name, logo and contact information can be printed on your customized Chinese takeout box. This will make it easier for people to find you. For those who find themselves in frequent need of food packaging boxes, we have also these available in wholesale at reasonable prices.
The colors or costs are nothing to be worried about because we got these covered for you. For any queries, contact us at PrintCosmo. Our sales manager is available 24/7 to help our customers.