What are you doing dear with these postage boxes?
Mom, I am making my project by using them.
Don't they get rip or gasp?
No, packaging boxes of this company are of very good quality, especially to be used alternatively.
Now a day as people are very much into online shopping and stuff like that's why postage packaging boxes are in great demand. Moreover, if you are an online retailer and you have to deal the customers from distance then these wholesale postage boxes are the finest option to deliver the products to their required address with safety. If there will be much more orders with fewer returns, then it will definitely influence the sales revenue with increment. Always remember, once you convince your customer with premium quality of the product and delivery through Custom Postage Boxes, he or she will turn into your permanent customers. Another benefit to achieve is the revival of these boxes in the business field.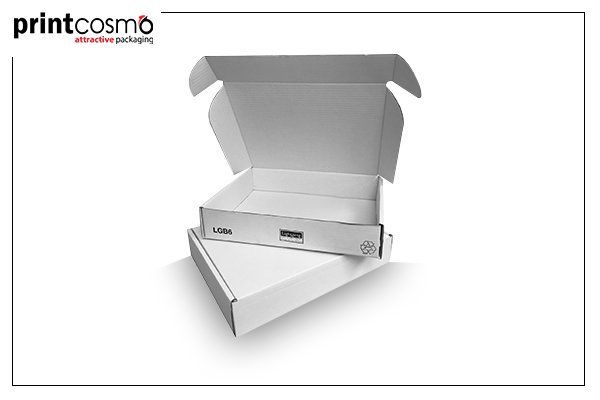 Significance of Postal boxes
Postage packaging boxes are not just random boxes to pack the things rather they are the outer layers that protect and preserve stuff packed inside from any type of damage and spoilage. This packaging stuff is given proper strength and sturdiness by adding layers. Cardboard made packaging boxes plays vital role as shipping cartons. Many well-known companies also prefer these Custom postage boxes as they have rows of air columns, which act as cushions for the products packaged inside and increase its durability to a new level for long and short distances. Basically, they provide protection against constant jolts, shakings, and impact of repeated bumps on the road to the destination.  Indisputably, the safety of content packed inside depends on these postage boxes so their strength and durability come in direct relation with the storage in the warehouse.
Postage or Mailing Boxes
As wholesale or retail customers, there is a huge variety available of postage boxes, but what you need in your boxes depends on some important questions. as there are several options of manufacturing materials are present in the market. the question you need to look up to are:
What type of printing you are opting for your custom postage boxes?
How many and what type of color combination you want to apply?
Do you need cushioning or not?
What size of packaging boxes do you prefer?
For the consideration of the above-mentioned points, there is one most important thing, that is the material of the boxes used in their manufacturing.
there are several types of manufacturing materials that companies use for the production of the postage boxes wholesale. For this, a technique called die cutting is also utilize to give a proper shape, size of particular design.
These type of material is commonly referred to as rigid postage boxes or it remains stays flat postage packaging boxes that are designed to remain flat during shipment. Moreover, they are also made in a variety of styles including thicknesses in the board by making additions and changing the color scheme. In addition to this, they are mostly used for documents, calendars, books, etc.
There is another material known as paper material in which coated paper finishes or contain composition. You just have to choose between heavily recycled paper or some that are entirely new content. They are relatively affordable and have a much lower minimum order quantity instead of printing over plastic material. However, they have limitation in design and color schemes because they are usually printed on equipment called flexographic.
Cardboard is another material that fulfills a lot of consideration of the customers in making a suitable, reliable and sturdy potage packaging boxes. there are several advantages provided by this material. For instance, cardboard is highly affordable and environmentally friendly. Most importantly the packaging boxes made from this material are print-friendly with several printing schemes.  In addition, they are lightweight and convenient to handle in loading and unloading. Moreover, this material has strong feature of flexibility, which means together with rigid type flexible postage boxes can also be manufactured easily.
There are several types of custom postage boxes that are:
This is very simple type of postage boxes with a base and a lid. The sides have to be stapled or glued together to be secured. Once the item is packed inside, customers need to seal it with tape. This is might not the most secure packaging but it is suitable for sturdy items packaging. However, this material is ideal for small-distance.
Die cut self-locking boxes
These are the most popular postage packaging boxes. These boxes are easy to use, lock securely, to keep the items secure over long-distances. I recommend this particular type of printed postage boxes for small to medium sized fragile and delicate products. You only need to seal the lid with tape for additional security otherwise there is no risk in using them.
This type of boxes has self-locking base so it becomes easy to assemble. One flap is beneath the other to create a strong and sturdier base. These boxes are ideal for light-weight items like clothes, soft toys, paper, etc. These boxes are smaller and flatter in shape than die-cut postage packaging boxes.
Five-panel postage envelop
Regular Packaging Boxes cannot provide accommodation for long time, for products like rolled up clothes or fabrics, paintings, bottles, etc. This five-panel postage boxes are designed for this purpose. It securely holds squat, narrow products. Moreover, you can open the horizontal flap to access its contents easily.
Full overlap and Packing carton
Flaps another important feature added to these postage boxes at the top and bottom of two overlaps completely so you have two layers of cardboard manufacturing material to provide you with reliability and robustness on both sides. This offers more security and makes postage packaging boxes stronger. Full overlap cases are ideal for large, heavyweight objects as their base are unbreakable. Moreover, the packaging cartons are the most commonly used packaging boxes available. They have four overlapping flaps at the top and bottom that can be sealed with tape for further security of the content inside.
Customization
These postage boxes can be printed in various designs and color schemes.  For printing pattern, you can use your imagination and creativity in an unlimited way. Moreover, you can also have the design or graphics assistance from the printing experts and engineers. They can better improve your ideas and make them shine, as these people are skilled and highly equipped with advanced machinery. For printing on these custom postage boxes, the multiple options included in the list are CMYK
[ Cyan, Magenta, Yellow, and Key], RGB and PMS [Pantone Matching System] color facilities. Moreover, you can use these beautiful packaging boxes to enhance your sales revenue, which will increase the profitability.
Advertising and Information Tool
Printed postage boxes are on the top when it comes to advertising your business and brand in the market. For this, you can imprint your company name, serial numbers, contact details, address details and social media details on your custom postage boxes. In addition, these packaging boxes can also be printed with information regarding warnings, or any precautionary measures that need to be taken for special product packed inside.  Most importantly, these details should be printed in comprehensive language to easily understand by the customers, so that he or she can remember them in the hour of need. That is how these postage boxes wholesale turns into marketing medium among the business competitors.
Custom Specialty Boxes
These boxes as their name suggest have special purpose to fulfill together with the role of packaging boxes. They are special, in other words, attractively designed to attract the customers and charm them with their beautiful features. They also perform their role as postage packaging boxes, when it comes to the packaging and delivery of the products on various events, celebrations, and parties. Moreover, these Custom Specialty Boxes are also customized into several ways. Furthermore, they are not confined to a particular business fields instead of in bakeries, toys shops, cosmetics, sports, apparels, and in so many other sectors you will find them and feel the importance of their presence.
Environment Friendly
Since manufacturing, these custom postage boxes are environment-friendly and maintain this status until it possesses any life. all the materials used in the process of manufacturing these postage does not harm the environment and ecosystem. In addition to this, these packaging boxes have recyclable capability, which further enhances its value for the consumers. After having its primary usage, these custom postage boxes do have secondary uses, where you can have personal utilization out of them like using them to make a model, complete a project or also for storing some old stuff to your homes and etc.
Fine Lamination and Embossing
To protect the outer layer and also to give it smooth and plain surface there is one application, which is considered much important for packaging boxes. This is called lamination. Lamination is a silky and shiny costing, which not only gives smooth surface but also protect the postage packaging boxes from dust, dirt, smudges, moisture and so on.  The list of options includes gloss, matte, AQ, spot UV, gloss AQ and much more. You can choose as per your choice.
That's what I know about the postage boxes, being a worker in packaging company. I have shared it with you hope it will benefit you. Oh but if you really want to get benefited more and more then contact Printcosmo to get all the above features at one place. They really do their job best. I am suggesting you after having a great experience with them.