Son: Hey mom, look what I bought for you.
Mom: Sweets, Aww, they look delicious and this sweet box makes it more alluring.
Son:  Yeah, a special gift box for my special lady.
That is how the magic is done to give a sparkle in your daily lives by taking a little help from sweet packaging boxes. I have brought some information with me for all of you, which will add a new life to your parties and events. I know what difficulties everyone faces during organizing the parties are. For little entertainment with family and loved ones, it takes days of planning in which the food is the real deal. From a single ribbon to all the decorations and most importantly the games, sometimes turn the parties into a headache. Therefore, here is the solution to all these problems, which I find very convenient for myself and for everyone else too. They are custom sweet boxes. In short, it saves time and efforts that anyone can believe. In addition, if you are working as an event organizer and want your efforts to be remembered that these custom packaging boxes are the real blessing.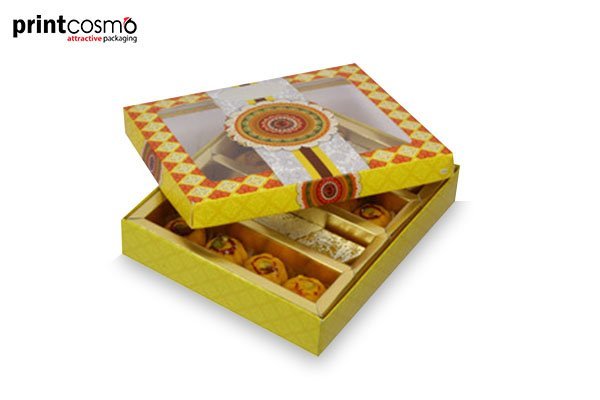 Inclusion of Description for Recognition
To tell you the truth few years back I used to do baking for my families and friends, who motivated me to acquire this as a profession and start my own business in this particular field. That was the time when I seriously realize the need for custom sweet boxes. The first thing that catches anyone's eyes is the designs printed on the boxes. Furthermore, how can I make my business logo with the help of sweet boxes manufacturers more appealing? These boxes are the best way to promote your business and advertise your product, not only those who buy it but also to those who have seen them on the market shelf while doing other shopping. Initially, I find some problems in how I can give the best picture of my business on these small sweet boxes without making them too much crow die. With proper printing of important details of my business, it turns out to be the best way for marketing my baking profession. One thing to keep in mind is that the details should be comprehensive and to the point so that the customers remember the right choice whenever they need.
Importance of Innovation in Designs
Innovative designing is the most important thing that plays a strong part in any of the product. If you are running a bakery, then this is one of your basic responsibilities to give a catchy structure and huge variety of custom sweet boxes with vibrant colors and print according to the requirement of the event.  If you really have such vast variety of sweet packaging boxes, then customer will surely come to you for the extra services attached with buying sweet and delicious sweets. In other words, these custom packaging boxes are the real business boosters. These boxes help you in making a proper portfolio of what you are and what you have to offer to the world.
Ideas for Colours Scheme
Another major aspect that needs to be focused is the selection of color scheme for these custom printed sweet boxes. There are variety of events that become sweeter with the presence of these sweet boxes. Therefore, for all these different celebrations and events you must have Custom Macaron Boxes with different designs or color combination. Sometimes you need to have vibrant color pallet for boy's fun times or sweet and smooth selection for girl's tea party. In addition, for adults or for co-operating parties subtle color combination is required. These days' customers are attracted to party themes and prefer such sweet and custom packaging boxes that show the theme even after the party.
Theme Customization
These days packaging boxes with respect to their themes are in trend. For birthdays, weddings, bridal or baby showers and so on. For specified theme, what required is not just color scheme but proper printing patterns with innovative ideas. Running a business of bakery items let me introduce to give different motivational and love quotes according to the party theme to inspire new generation over sweet boxes. I have already faced these problems regarding printing on my sweet packaging boxes long ago but now I am free from all these troubles because I have found someone to provide me with custom printed sweet boxes with variety of designs. Here is some example of innovative designs for different occasions:
Holidays Sweet Boxes Designs
Holidays are very special for everyone no matter what is your age is and it becomes even more special with the sweet packaging boxes, which is provided according to the event specialty. Therefore, to make it more special and remember able I have done some special efforts through custom printed sweet boxes. For example, special and unique designs for Halloween and Christmas parties and other events. Therefore, in all these decorations these boxes give a rainbow effect to the party and take it to a new level. For this, I have customized these sweet boxes by adding balloons, small toys and some actions figures from famous cartoon series. Recently, I introduce an offer to print my clients with the names or pictures as well for birthday celebrations.
Other Parties and Events
For events such as bridal showers, weddings and anniversaries and all, I give an option to imprint the sweet boxes manufacturers with the names of bride and groom, some beautiful quotes on different events and some message to show your love to the loved ones who shared that lovely moment with them. In addition to this, for graduation parties, I offer custom packaging boxes in the shape and designs of books, graduation hats, which can easily be matched with the event, and celebration of the clients.
Character Customization
Another way of customizing these printing that is loved by the cute little kid is the use of famous cartoon characters and action figures which fascinate and attract them. Different kids favorite cartoon characters are printed over Sweet Packaging Boxes for making it more attractive. For example, the famous characters like Snow White, Cinderella and Barbie are extremely attractive for cute little girls. For adorable little boys, Tom and Jerry bugs bunny and other animated superheroes are the points of attraction. Truly, these sweet boxes help in boosting my business as well giving me recognition among my cute little ones.
Boxes for Serving and Giveaway Purposes
The best part of these custom sweet boxes is that they can be used for both servings as well as giveaway or takeaway purposes in the party. Instead of using simple cardboard made disposable packs and other accessories use sweet boxes to serve your guests. In addition, there is a trend and tradition to give thanksgiving favors to the guests at the end of attending the party. For example, you can have truffle size custom printed sweet boxes for giving favors to your friends and family attending the party making out time from their busy schedule. For customers, there is another way in which these sweet boxes can play important role. They can be used as a party invitation to the guests. Grab these custom printed sweet boxes customized as per the theme of the party, printing all the important details of the party and send it to those who you want to invite.
Additions of Die cut windowpanes
To improve the aesthetic beauty of these Sweet boxes, you can add die cut designs. This addition is proved as the icing on the cake for you. To tell you with the truth it really helps in attracting the customers. In addition, it helps to display your products in the neatest way possible without unwrapping it or exposing it to the outer climate. These custom Sweet boxes also increase the shelf life of the products. These cut out are not restricted to some particular size or shape that means there is no restriction of any kind so whatever you imagine can come to live. There can be a lid or a flip top over the boxes, on snack boxes or on the front of the truffle boxes. These cutouts can be of any shape or any choice.
Importance of Lamination
I have told you a lot but there is an important thing to remember about custom sweet boxes. This important feature gives proper finishing to the boxes. For satisfactory finishing look, lamination is very important. Lamination helps in increasing the lifeline of these custom sweet boxes. Furthermore, it gives them the strength to resist sun's heat, moisture, dust, dirt and other atmospheric changes that can harm these Custom Packaging Boxes or the product placed inside. If you are wondering, how do I find this solution with innovative designs, and then be with me I will share my secret with you
My Packaging Partner
Here I tell you about my biggest support in this business world. If you are looking for all the facilities mentioned before then without any further delay contact Printcosmo. This company really help its customers in maintaining their standards to the level of them believe, which is highly difficult to achieve. The variety in the sweet boxes manufacturers provided, I am sure of it that no one has such quality and standards. I have properly introduced the company so, for any or all of the above mention facilities, you can contact them directly. This company really helped me in maintaining my packaging system in the form of custom printed sweet boxes.
To know more about them and their services you can contact on their numbers or visit their web page www.printcosmo.com. Their representatives are available at all times.