Looking for the remarkable advertising tool for your restaurant to promote it? Then customized table tents are fabulous options to keep your valued customers engaged.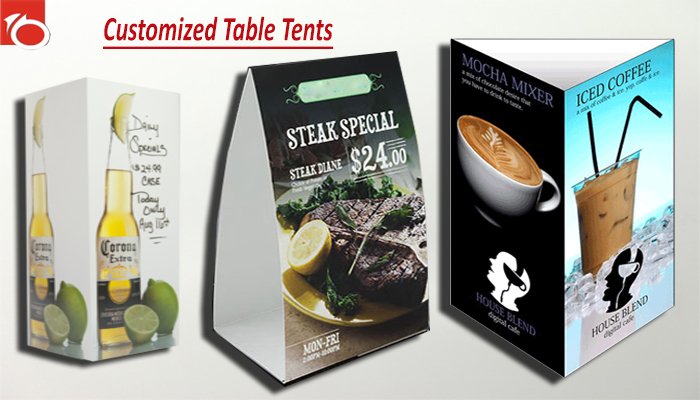 First advantages of using table tents are to provide your business a competitive edge or extra exposure to drive your business sales and satisfy your valued customer.
Second, the manufacturing cost is very economical, so you don't have to spend a lot on buying these. In a summarizing manner, you can say that customized table tents for restaurants are the best for your business due to affordability.
When it comes to the advertisement of hotel and restaurants, they are also very effective.
#1. Customized Table Tents for Instant Marketing:
A lot of famous restaurants are using restaurants table tents for promoting their hotels and restaurants. 
They are also used by nonprofit organizations for the purpose of public responsiveness and fundraising. I'm sure that you see them on your visit to snack bars and coffee shops. 
When you see these colorful printed tents on your table, it would be motivated you to buy your favorite food item.
#2. Best for Marketing Eatable Items:
Are you looking for the successful advertising strategy to establish your restaurant or food chain, then you should prefer the option of table tents, but make sure that you buy them according to your marketing requirements.
For making the best possible impact on your target audience you have to place them at the right place and it should be eye-catching, bright and lively graphics.
#3. Events and services promotion:
The restaurants table tents can also be used for promoting events like amusement shows, crews, birthday parties and catering facilities, etc.
#4. Useful for every type of business:
If you are looking for the versatile marketing tool to promote your business and to engage your business, then you need to consider the option of table tents. I'm sure that you have seen it everywhere like restaurant, bank, and hotel. 
These are common to advertise the restaurants, bars, and discos. Their worth can inflate to many other areas such as exhibitions, meetings, calendars along with company name, contests, seminar and more.
#5. Table tents Printing:
Do you want that table tents to convey your message efficiently,  then make sure that its printing quality should be premium.
Additionally, your advertising message should be attractive, clear and compelling. The design of table tent should be unique, and according to the products or services. The material quality that is used for making the tents should be eco-friendly, flexible, recyclable and water resistant chemical.
On the whole, the entire things from marketing message to printing and image should be stand out and striking.
Inference: To conclude, customized table tents are considered to be a very powerful, inexpensive marketing tool that boost clientele, reinforces customer loyalty and upsurges brand visibility.