When it comes to lunch boxes, you look for most user-friendly as well as eco-friendly packaging boxes. It plays a very important role in your business life for packaging and for promoting purposes. For all these purposes cardboard lunch boxes play a key role. You can use them on various occasions and on business platforms, in both professional and personal ways. Once you decide your design Printcosmo will present you attention seeking custom boxes wholesale. Therefore, you can also print them with important details to advertise your brand in the market.
Design and Detailing
These Custom Boxes Wholesale are highly innovative and elegant in their designs. These lid-designed boxes is a great solution for storing up. Moreover, this lid facility also provides a protective shield from harmful atmospheric effect. Instead of using simple and ordinary cardboard boxes, you can have custom printed boxes, which helps to grab the attention of the people towards your products. You can have them aesthetically designed with different color combination having company's labels or name on them. This technique will be beneficial in grabbing the attention of your potential customers.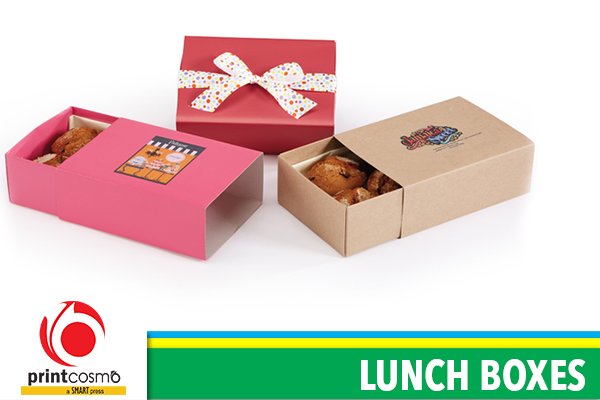 Usefulness
These Cardboard Lunch Boxes are highly useful as they are remarkably spacious for packaging. The most interesting part of these boxes is that they also have the option of dividers that can help you to arrange your edibles in many manners able way. These food packaging boxes are available in various sizes and shapes. Your customers can use these boxes with or without dividers according to their convenience. These boxes are the best option to pack lunch for your family members including your own self for schools, offices and even for picnics. As they have the recyclable ability so that you can re-use them without any fear.
Other Accessories
These food-packaging boxes are available in different expanded capacities. These food containers are available with positive interlocking tabs that provide a safe closure, with the impactful resistant formulation that will not let these boxes rip apart, brittle or be smudged easily. Moreover, they can be used to package candies, cookies, muffins, fast food, homemade sandwiches, pasta and much more. The other detailing includes windowpanes and handles, which made these food packaging boxes more convenient to handle for your consumers. This die-cut window is beneficial as the product inside the box will allure your customer to buy your product. In addition, the pivoted lid when closed, units can stack on top of each other.
Spacious design
When it comes to adjustment or placement of the products, these printed boxes are remarkable in their space. Our company specifically manufactures these boxes. The company provides appropriate interconnected tabs that will protect your food items from falling. There are lot more things which needed to be checked when you order such packaging boxes. For example, you also have to take care that food packaging boxes must have the ability to hold the greasy food items properly. This quality measure is highly considered by our company as there packaging materials do not get greased when items like finger chips, pizzas, cakes, brownies etc. are placed in them.
Quality Services
Cardboard Lunch Boxes are the best option to replace the plastic and polythene bags. The company provides 100 percent quality services and also maintain the quality for the customer. As our first and foremost consideration is to satisfy the customers with our services and quality products. Printcosmo provides cost-effective products to its valued customers. To make these boxes durable, they are made from acid-free, lignin-free, buffered material. Gloss, matte, aqueous and UV spot coating protect your printing from damage. Together with these glazing, the boxes are completely budget oriented.
Other laminations
In all of these packaging boxes, our company used best quality materials. For example, Food Packaging Boxes are made from cardboard and kraft paper having various coatings. Kraft paper is made into 3ply or 5ply (3 layers with central corrugation) depending on weight of the product that is being sealed inside them. Our company's production team focusing on the quality of the manufacturing material uses recyclable, CMYK, PMS, and eco-friendly materials. So the customers will never be disappointed by having services from us. Our company's representative is 24/7 available to answer your queries.
Turnaround Time with quality
Our company Printcosmo together with quality also focus on the turnaround time in which we deliver the shipment on your desired location. Since Printcosmo is known for its quality services, they also maintain the quality checks of the product. We as the company also give real-time information to our valued customer for their satisfaction. To satisfy our customer we even replace any inaccurate piece that might have slipped away from our site. Furthermore, these custom food and paper boxes can be used to store food in refrigerators. This airtight technology helps to preserve food items for long period.