If you are looking for the most user-friendly as well as environmentally friendly packaging option for your lunch, the lunch packaging boxes are the answer to all your questions. Cardboard Lunch boxes are preferred by most of the businesses to package as well as promote their food products due to their biodegradable nature. They can be used to package a wide range of food items like biscuits, chocolates, cakes, coffee, cupcake, and your homemade sandwiches or even pasta. There are various types of the lunch packaging boxes from cardboard to Kraft ones and you can even get them printed with the vital details of your business if you are thinking of launching your food-based business soon. In other words, the lunch packaging boxes are the best packaging solution for the food items for being sturdy as well as biodegradable which makes them user-friendly as well as eco-friendly respectively.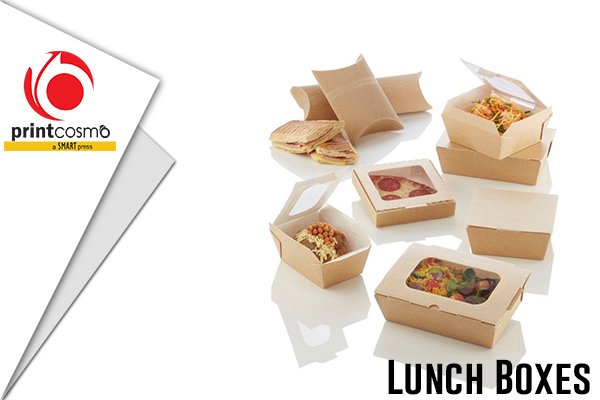 Stackable Lunch Boxes
These lunch boxes are best when it comes to packaging the lunch for your kids, spouse or yourself to enjoy while at work. What makes this option so great is the fact that they keep the food so fresh and are recyclable. So, you can easily replace it daily without the fear of using the harmful plastic lunch boxes for your loved ones. So, being a stock of them with grocery each month and keep your family safe.
Lunch Boxes with Window Panes and Detailing
The Lunch Boxes are often created with window panes in order to provide a visual of the enclosed product to the customers. It provides a way of enlightening the consumers of the various pros of the packaged product which help to allure them into buying the product. Besides, information like ingredients, net weight, usage, and expiry date may also be printed on these boxes for the consumers.
Cardboard Lunch Boxes
Cardboard Lunch boxes are available in all designs, shapes, and sizes. They are being used by most of the restaurant chains for the takeaways. They can also be customized to your particular needs and requirements. Choose a design and details that are enticing to the customers or get a professional hired to have it designed in order to endorse your brand in a professional way.
Cost-effective Marketing Tool
Printed Lunch boxes are the best alternative to the plastic and polythene bags. These boxes can be designed specially to keep your food items protected while creating a brand awareness that would help your business grow. So, the advertisement can be one of the greatest benefits of these boxes provided that they are so cost-effective. Putting up the details of your business as well as the important features of your products can help to educate the audience about your brand and products. In short, these Boxes can be a very cost-effective marketing tool for your food business which can lead to increased productivity while making your marketing efforts look streamlined and professional.
Effective Food Packaging
Cardboard Lunch boxes make the perfect packaging option for food items. They can be made into different shapes and sizes as well as designs to best suit the requirement of your food business. These boxes usually come with handles that make the carriage of food items convenient. You can package food items ranging from finger chips, chocolates, coffee, and cornflakes to sandwiches, burgers and other confectionery items. These boxes can also make the perfect lunch boxes to be carried to work or school with ease. Moreover, they can also be used by the restaurants for their customers to take away the packaged food conveniently while promoting their brand effectively.
Bakers and Confectioners
Bakers and Confectioners are the ones that are benefiting from these boxes the most. They can use these boxes to conveniently package their food items from sandwiches, burgers to other confectionery items. Fast food business can also benefit from these boxes as they provide the most cost-effective way of packaging their food items while nailing their marketing targets as well. You can have them custom crafted to the needs and requirements of your food business. The above-mentioned facts prove that Lunch Packaging Boxes are what we need in our lives to stay away from food hygiene related issues while making it convenient to carry and store food while commuting.