Where are you going to put your handkerchief and other stuff?
In a box.
In the same box?
Yes!
Sleeve boxes with inserts are available in different sizes and shapes. So, you can put multiple things in it. I thought that sleeve boxes printing was the worst idea that one can pursue with. Because they are two separate pieces are joined together. One is the tray and the other one is sleeve. It makes it a little difficult to keep both things together. But depending on the types and their resourcefulness, you cannot deny the fact that they are alluring as well. Here are some of the qualities that are obvious and you will get them with sleeve boxes printing and that is:
Opportunity to advertise your brand and company.
Make recognition in the market with custom printed sleeve boxes.
Store things and make them impact for your customers.
Well, these are some of the characteristics that make these sleeve boxes wholesale actually different from other storage boxes. But what is new in it?
What brings you here?
This is the question that you have been looking for. What makes these Custom Sleeve Boxes not only different but if they get different in their own kind, you might get worried that how can they be useful. Well, you don't have to worry about that as custom printed sleeve boxes have earned their reputation on not only making people glance at them but also in quality protection and security. Here are some of the types that you can look in sleeve packaging boxes.
Sleeve apparel boxes:
You don't have to be a part of clothing line in order to know this, you might have seen a lot of gifts and packaging that you though are best for holding your ties and shirts. Sometimes all you need is packaging that will support more than one product in it. When it comes to apparel there are multiple things that you can give and can put in one box. Just like the below image, you can add different products. Like tie and cufflinks. Similar to what you want to add to them. Well, you might have seen some of the handmade boxes that also help in fulfilling this purpose. So, you can always look for options that best go for your product.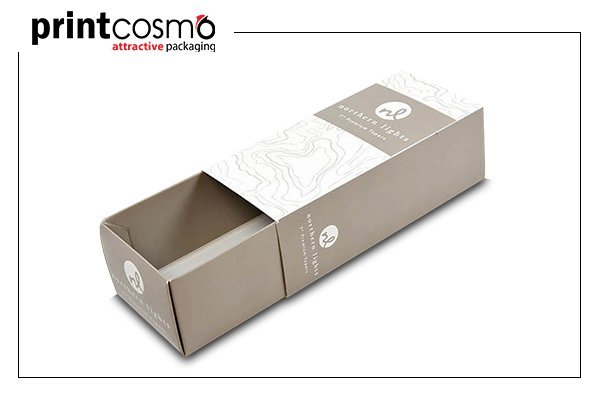 Custom die cut sleeve boxes:
Well, custom die cut sleeves are really attractive as you get a window on the sleeve that can be of any design or can be laminated with the transparent films. Custom Boxes Wholesale is usually cut with the same designs and that can be of your choice. Since the tray remains same, you can get the die cuts in the top of the sleeve.
It is not necessary that the die cut has to be window. It can be related to the logo cut of something that is shown in the picture.
Kraft sleeve boxes:
Kraft is the material that is used in the manufacturing of sleeve boxes. Now it depends on you that if you want the tray and sleeve both manufactured with sleeve box or is the tray solely. Well, the best material for sleeve boxes wholesale is Kraft if you are planning to store small object. Like you can store your mini tapes or your mini boxes inside. You can also add small pens or items of stationery in these boxes. The major concern of these boxes is to make sure the product remains secure and become easy for you to access with the single slide of the finger.
Here in these pictures, I have put my washi tapes and stuff of crafts in it so that it remains secure and I will remember where to look for.
Sleeve gift boxes:
Well, the best thing you can come up with is sleeve boxes is to give them to your fellows. All you really need is to make these sleeve boxes attractive and colorful. Well, that can be made with the single-color sheet or they can be printed with simple sheet but with the wishes on the top. You can make them attractive with the themes of the event you are giving gift for.
Well, this is what I have done with my gift box. I just added some jewelry and then made the sleeve little smaller than the box. I thought of giving it a little different look so that I added curve edges and also make the ribbon tied up the top. This gives a proper gift look. I tried contrast so that the color will attract the gift.
Half sleeve boxes:
This is something I have learned from the experience of constant learning of things. And this is that you can get variations in sleeves apart from just getting them sleeve boxes printing with things. You can make the box in a way that is complete in itself and then add a sleeve on it. You sleeve in this case does not have to be complete and cover the tray. So, basically, I mentioned this here because I believe that sleeve solely can be used for various purposes.
You can see in the above image that how we have manufactured these sleeves with just a small piece of paper. But here we have made sure the size is perfect and covers the box all four sides. You can make the contrasts with the sleeves so that they look more appealing. There is another really great idea about cutting the sleeves of the boxes small and that is by doing it in a way that you can just get the wish and make it whole sleeve around the box of your product.
Custom handmade boxes:
Most of the people confuse custom handmade boxes with Custom Handmade Boxes. you can get these sleeve boxes handmade and if you are going to make them in Kraft paper, you can make the doodles on it or write the wishes of the gifts. But since custom sleeve boxes are not always used for giving gifts you can make them in textured or printed form. And these can be used to put different edibles as well. You can print them and then add the product of your choice. Well, these can be customized with the candies and jellies for the Halloween or thanksgiving.
Macaron sleeve boxes wholesale:
Well, with the partitions and insertion in these sleeve boxes, you can add your macarons and chocolates inside. These help in keeping your products inside safe and also helps in protecting them from each other as well. You can see in the picture below and can customize a small window at the top of the sleeve as well so that you could get a little sneak peek inside as well.