Happy new year greeting envelopes play an important role in the overall business branding as well as business reorganization and establishment.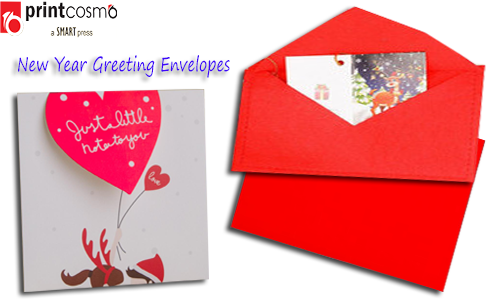 Make sure that the printing quality and designing of the card envelopes should be excellent to grab the attention of your targeted customers.
If you have the plan to order envelopes for building brand Identity, then always choose a company which provides a professional touch to the envelopes.
Premium quality printing not only helps you in identifying your business but also improve your relationship with the customer in an efficient and impressive manner. Happy new year envelopes are great for attracting customers.
This article explains the three excellent benefits, which you can get from envelopes on a new year. Read on!
New Year Greeting Envelopes Best for business and personal uses:
New year card envelopes are best for both business and personal uses. You can get both plain white envelopes, or brown envelopes in almost all sizes, styles, and colors according to your requirement. Professional printing companies can offer you to select envelopes in different varieties from square shaped envelopes to expanded and triangle shaped envelopes.
 I recommend the online printing companies to get envelopes because they provide you perfect envelopes for all occasions and purposes in an easier and faster manner.
Perfect For Sending Greetings to Existing Customers:
Are you looking for the best way to send invoices, letters, checks, new year and Christmas greetings to potential and existing customers? Then you should give preference to the envelopes for greeting cards.  These envelopes not only give a professional look to your invitations but also gives a special feel to your customer.
 When it comes to ordering envelopes, you should concentrate on the perfect size. In other words, you can say that the is very important things while purchasing envelopes because the only size ensures the perfect accommodation of your invitations in a best possible manner.
Additionally, envelopes are the best way to provide protection to your invitations while delivery. Apart from the size, color, and design of the happy new year envelopes are the two important aspects to consider. However, printing companies offer you unlimited color and design variety according to your requirement.
Envelopes for Non-Profits Organization:
Are you running the Non-Profits organization? Then envelopes for greeting cards are specially designed to send an invitation to this event. You can get these envelopes with flaps, different styles and sizes to cover up your requirements.
To conclude, if you are searching for the right printing company for getting new year greeting envelopes for business, personal use, then look no further than the online printing suppliers and wholesalers. They don't only provide you high-quality new year card envelopes, but affordable also according to your requirement. Additionally, they also ensure that you receive high-quality greeting cards and envelopes in a safe and secure manner at your door step. I hope that the above-mentioned new year card envelopes advantages help you to choose the right one.