Good day to all food lovers. Today we will discuss food and their packaging. Food has always been an important factor, serving us on various occasions in our life adding a new and special flavor to it. If we talk about foodies like me then it is a treat to have food of premium quality. It is a thing to live a whole life for. However, for me combined with the quality of food, its packaging matters as much. I have seen and bought variety of custom food boxes but among all my favorite type are Chinese Takeout Boxes. For many reasons I prefer them. For instance, their compatible look and ability to store food for a long time without damaging its taste and freshness. This is my point of view about food boxes Packaging as a customer. Interestingly I have found a lot more benefits as an owner of food chain. If you also want to know how they can be beneficial then stick with me until the end. I am sure you will definitely get lot of information and details of your concern.
Brand Recognition
As I have already told you that custom food boxes have multiple advantages to use in the food business. First and foremost is that they are the best way to advertise in the market. Whenever you enter any business field, you decide on a logo and name for your brand and to communicate with the world this brand name on the boxes plays a vital role. Imprint these wholesale food boxes with all the details regarding your products, contact, and business and so on. These custom printed boxes really help in advertising. Nevertheless, you should not forget few things. There should be relevancy in your product and brand name. Moreover, the name should be appropriate enough to be easily printed on all sizes of the custom food boxes.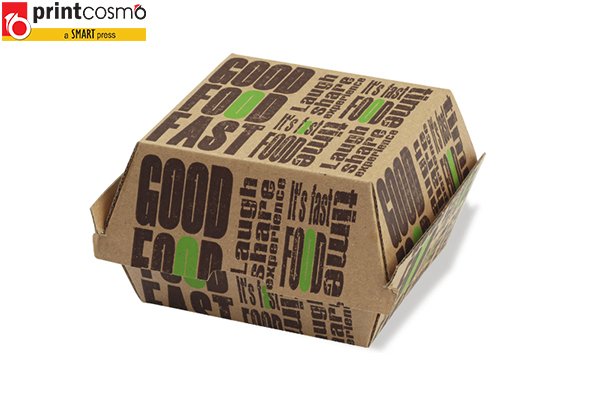 Manufacturing Particulars and its Support
As per the manufacturing of these Food boxes, kraft paper, paperboard sheets, and cardboard materials are used. You must be familiar with the benefits of these materials to your product. The important feature of these materials is that they are best for printing purposes. Therefore, the printing is required for brand recognition, for which these materials are highly approved. For custom printed boxes you can use any of the color pallets such as CMYK, PMS, and RGB. However, I will recommend you to take assistance from printing and design experts according to your food item. This will be beneficial in the sense that you can also tell them about your ideas, which will be further enhanced to another level with their expertise.
Colour and Designing Impact
Another important aspect that needs to be focused with reference to custom food boxes is their color scheme. If you ask me then I would go for subtle background with some vibrant color combination for logo to be more prominent. You can reverse this scheme if you want. As there are variety of food items, therefore, some sort of printing does not seem appealing. Moreover, their printing over Food boxes can also vary with respect to the food item and the occasion is going to be used for. Hey, do not forget these wholesale Food boxes are not just for particular foodstuff, it can help with a great list of food items. For instance, for wedding favor, birthdays, cupcake and donut packaging so on and so forth. Additionally, you can also embellish them with ribbons and other decorating materials for these special occasions. These little details are important in attracting the customers.
Importance of Lamination
Lamination is an important feature to look forward to. It is a process of applying a layer of thin plastic, which provides resistance from water, sun's heat and from wear and tear of daily practicing while handling and provide an extra shine to theses kraft food boxes. There are multiple options available in the market like matt, gloss, traditional silk, aqueous, spot UV and so on. However, their application over Custom Printed Boxes is very important. It also helps in sustaining the printed details over the boxes.
Important Features of Takeout Boxes
Above mention is the important factors, which you must keep in focus while ordering wholesale Food boxes. However, there are multiple reasons for which these boxes are opted as custom food boxes. Here are some important features.
They are stackable and compact for storage for a long time. Including Chinese, they are suitable for all types of cuisine. They are assured for Microwave safety. Wire handles are added for easy handling. One piece assembly which does not require any separate lid and with full lid opening facility, allowing the customers to eat directly. Poly coating and other interior features providing barriers against heat, moisture, grease etc. Suitable for containing all types of foods such as hot, cold, wet, dry. They are also suitable for directly serving food in these boxes and to make deliveries easy using them. They are perfect for folding and holding and are made from 100 percent recyclable material.
Types in Range of food Boxes
There is huge variety of Food boxes available that you can buy. They have slight differences. However, if you are in food business then these varieties are extremely important as they can play dynamic role in attracting the customers and increasing the sales and profit. The assortment includes colored and brown kraft custom Food boxes, microwave friendly, glowing food packaging boxes and smart serve print paper food boxes. All these types have slight difference such as translucent, as its name suggests are lightweight suitable for parties and other events. Restaurant is nowadays opting for these boxes for easy assembling and delivery of food. As these Food boxes maintains the freshness and warmth of food very well.
Appeal through Windowpanes
There is another important feature that will add appeal in the food packaging boxes. This feature is none other than the clear windowpanes. You can add windowpanes on the front, top or wrap around the boxes. It is very eye-catching for the customers when you pack dry products like jelly beans, candies, wafers etc. Moreover, there is a type of custom Food boxes completely made of BPA free plastics. They are helpful when you have to display some new variety or some previous product to make it visible to the customers. In other word, their plastic variety can play the role of display boxes.
Sizes that you can avail
When it comes to custom food boxes, size always matters. As one single standard is not suitable to pack all types of food. Do not worry I am telling you about some sizes through which you can take idea.  There are some sample Base 1-3/4″ x 2-1/8″, Top 2-1/2″ x 3″, Base 2-1/8″ x 2-3/4″, Top 2-7/8″ x 3-3/4″, 3 3/4″ x 3″ x 3 1/4″. There is another unit through, which you can understand is ounce [Oz]. According to this unit, these Food boxes can be measured as 8 Oz, 16 Oz, 26 Oz, 32 Oz, and 64 Oz and so on.
Atmosphere resistant quality
The best part of these Food boxes is that they have the ability to resist the atmospheric changes. All the food products really need protection from heat, inside moisture, smell germs, dust, and other such atmospheric changes. Moreover, they are biodegradable. Furthermore, these custom food boxes are FDA [food and drug administration] approved which means appropriate for direct packaging of food.
Various ways of Recycling
Hey, all the above information as an owner of the business. As a customer, I tell there are alternative ways in which you can re-use these Food Packaging Boxes. As I have turned one of the beautifully printed Food boxes into a flower pot, which looks very beautiful on my dining table with fresh flowers. Moreover, you can also transform them into stationary container. In addition to this, they can be the best way to beautifully present and preserve your napkins on the dining table. These are some ways in which I have utilized Food boxes.
Support of Company
Without any further delay let me introduce well-wishers and supporters. To facilitate yourself with above-mentioned features contact Printcosmo. This company really help its customers in maintaining their packaging system in the form of food packaging boxes. The variety in wholesale food boxes they have provided me; I am sure no one has such quality. If you do not believe, then compare yourself and then take decision. To be benefited by this company just fill one custom quote form and you will feel the difference yourself. The sales representative will tell you all the relative details such as available stock, price rates and much more. This is a free feature for the valuable customers.
Other Services by Printcosmo
This company has list of features provided free to its customers like custom quote they also offer free design assistance and sampling for custom Food boxes. In addition to this, there shipping timing is commendable and shipment of your consignment will be at your address in minimum possible time. The best part is their shipping is also free. They also provide the facility of add-ons, which includes die cuts, gold and silver foiling.
There is a lot I have told you about Food boxes, the company I have to prefer and recommend. If you want to know more about this company and their deals, you can contact them on their given numbers or web page.